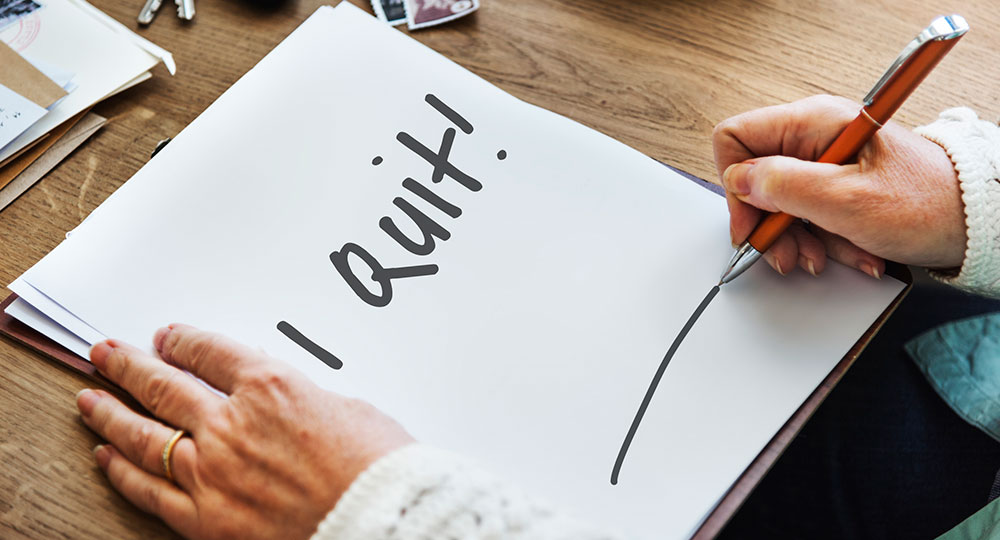 Are you considering resigning without notice from your existing job? Has an employee left your company without giving notice? We'll cover these topics and the potential legal considerations in this article.
At some stage in your career, you might consider switching jobs or quitting for various reasons. Leaving a current job can be stressful, and it requires great courage to do so. This raises the issue of whether or not you, as an employee, can quit whenever you like. Can you quit cold turkey? In practice, it is best to gracefully inform your employer of your resignation when leaving a position. To do so, you need to understand what a notice period is and how it affects the termination of your employment contract.
A notice period refers to the time you must give your employer before leaving your job and the time given to your employer to look for your replacement. The notice period concludes on your final day of employment.
Do employees need to provide a letter of resignation?
The short answer is YES. When an employee decides to resign from their position, they are required to provide their employer advance notice. It is best and practical to resign in person and provide appropriate notice to the employer.
From January 1, 2023, the Employment Act ("EA") will apply to all workers ("any person who entered into a contract of service"), except for sections concerning overtime pay and termination benefits, which will no longer apply to all workers whose monthly wages are more than RM4000.
According to Section 12(1) of the Employment Act, either the employer or the employee can terminate the employment contract by giving notice to the other party.
"Either party to a contract of service may at any time give the other party notice of his intention to terminate such contract of service".
Traditionally, a clause in the employment contract should determine the duration of the notice period. This is one of the basic components of an employment contract. If the employment contract is unclear about or silent on the required notice period, subsection 2 of section 12 shall stand where the length of the notice period is determined by how long you have worked with the organisation.
Four weeks' notice if you have been employed for less than two (2) years;
Six weeks' notice if you have been employed for two (2) years or more but less than five (5) years; or
Eight weeks' notice if you have been employed for five (5) years or more.
The Advantages of Resigning with Notice
A resignation notice that has been thoughtfully drafted conveys professionalism and leaves the employer with a positive impression.
A resignation letter facilitates a seamless transition, thereby assuring a smooth transfer of any ongoing tasks and responsibilities.
If you make it clear in writing when you want to leave your job, the employer will have ample time to locate someone else to fill the role.
What if you refuse or are unable to give notice of resignation?
You are often needed and expected to give notice when you quit your job. It is professional to give adequate notice and uphold the terms of the contract that you agreed to when you started working for the company, as this requirement has traditionally been part of the majority of employment contracts in Malaysia.
However, sometimes, one may not be able to keep working during their notice period, so skipping the notice period would be the best choice. Instances when a person might not be able to afford a notice period include, but are not limited to, the following:
Leaving for a bigger and higher paying position
Moving to a new city or country
Resigning due to problems with employer or colleagues
Returning to school
Health concerns
Other personal issues
If an employee decides to ignore the notice period for the reasons given above (or any other reasons), they may do so following Section 13(1) of EA.
"Either party to a contract of service may terminate such contract of service without notice or, if notice has already been given under Section 12, without waiting for the expiry of that notice, by paying to the other party an indemnity of a sum equal to the amount of wages which would have accrued to the employee during the term of such notice or during the unexpired term of such notice."
From the above rules, the following can be concluded:
As an employee, one can end their work contract and quit without giving their employer any notice.
If the employee terminates their employment in this manner (without providing notice), their employer is entitled to compensation.
The compensation should be equal to the wages that the employee would have earned during the notice time.
IN LIEU OF NOTICE
In lieu of notice refers to a scenario in which a departing employee is not required to complete their notice period. However, they may skip the notice period by paying a specified sum to their employer. In other words, Section 13 requires the employee to pay an amount equal to the wages they would have received during the notice period if they wish to terminate their employment immediately and effectively.
Payment in lieu of notice is intended to protect the business from losses incurred due to the immediate resignation of an employee without proper notice. From the employee's perspective, it allows them to transition to their next position or make necessary adjustments and preparations without continuing to work during the notice period.
For payment in lieu of notice to be an option, it must meet specific criteria, such as being agreed upon by both the employer and employee or being spelt out in the employment contract. If the employee submits the required notice of resignation but leaves before the end of the notice period, the same payment in lieu of notice applies. The amount equals one day's pay for each day of the notice period.
Illustration of Section 13:
A's employment contract states that he may terminate his employment by providing two months' notice of termination OR making payment in lieu of notice. A tendered his resignation on 30th June 2022. Under his contract, he is, therefore, contractually required to serve notice until 30th August 2022. However, in his letter of resignation, A mentioned that his resignation would be effective immediately, and he did not return to work after tendering his resignation.
A's last drawn salary was RM5,000. Since he has failed to serve his three months' notice as stated in the contract, he must pay his employer in lieu of that notice. Therefore, A's employer would be entitled to receive a compensation amount of RM15,000 from him.
Termination due to wilful breach
Section 13(2):
"either party to a contract of service may terminate such contract of service without notice in the event of any wilful breach by the other party of a condition of the contract of service."
According to the above provision, the employee may terminate their employment without notice if their employer willfully commits a breach of contract, such as:
Failing to pay wages: OR
Compelling a worker to perform work that endangers their life when it is not within the scope of their job to be exposed to such risk or peril.
In this case, the employee may wish to explore their option to see if it falls under the purview of constructive dismissal.
How can an employer recover the payment in lieu of notice?
Some departing employees may not cooperate when restoring their employer's right to payment in lieu of notice. Any claim by an employer against an employee in respect of indemnification owing to such employer under subsection 13(1) mentioned above shall be heard and determined by the Director General of Labour according to Section 69(2)(iii) of EA.
If an employee fails to give proper notice and compensation to their employer, the latter may bring a claim for damages with the Labour Court. Therefore, complying with the terms of the employment contract and EA is essential to avoid a greater cost down the road. As an employee, you cannot simply breach the terms of your employment contract.
Conclusion
The purpose of the notice period for employers is to mitigate any losses resulting from an employee's departure. For instance, the company may want to ensure the departing worker wraps up unfinished tasks and assists with the transition. However, the company is entitled to monetary compensation if an employee leaves without proper notice. Employers also have the legal right to insist that departing workers fulfil their contractual obligations.
The rules in EA are there to rectify a scenario where loss and harm might occur due to an unanticipated vacancy caused by an employee's sudden resignation or termination of employment. After all, observing the required notice period reflects professionalism. But if you are in a position where you cannot serve your notice period, section 13, as discussed above, can remedy your situation. Yes, you can legally leave your job without having to serve the notice period, but doing so will cost you money.
This content was written and reviewed by a lawyer but it does not constitute legal advice. We always recommend engaging a lawyer before taking any legal action.